Her zodiac sign is

Sagittarius
Check Zodiac Compatibility
Best matches by zodiac
Users:
Sagittarius
,
Aries
,
Leo
Descriptions:
Sagittarius
,
Aries
,
Leo
Daily Horoscope
Sagittarius
Your love life could get a boost today, and it's one that you're sure to like! You may meet someone new and compatible, or your current partner may tell you something you've been longing to hear.
Daily Chinese Horoscope
Rat
You can probably be more persuasive than usual today as long as you stay connected to your core beliefs and values. Practice the process of heart-based selling in which you really believe in your product and what it can do for others. That's how you'll win people over.
Daily Tarot Card
Ten of Swords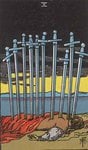 If the Ten Of Swords card is appearing in your reading in this position, you likely already know that which it speaks of. The loss you're experiencing right now is total, and permanent, and the recovery period will be hard. For now seek support of those who will understand, and know that the future is brighter with this blight having been removed.