Her zodiac sign is

Sagittarius
Check Zodiac Compatibility
Best matches by zodiac
Users:
Sagittarius
,
Aries
,
Leo
Descriptions:
Sagittarius
,
Aries
,
Leo
Daily Horoscope
Sagittarius
You could be in a dreamlike state for much of today, though you may feel totally alert. Watch out for things that look a little off, because they're almost certainly signals from your subconscious mind.
Daily Chinese Horoscope
Rat
Although you might not be happy with the way things are right now, don't bite the hand that feeds you. Know that you'll get what you deserve in due time. For now, just be content with where you are.
Daily Tarot Card
Ten of Swords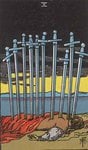 If the Ten Of Swords card is appearing in your reading in this position, you likely already know that which it speaks of. The loss you're experiencing right now is total, and permanent, and the recovery period will be hard. For now seek support of those who will understand, and know that the future is brighter with this blight having been removed.