Her zodiac sign is

Gemini
Check Zodiac Compatibility
Best matches by zodiac
Users:
Gemini
,
Libra
,
Aquarius
Descriptions:
Gemini
,
Libra
,
Aquarius
Daily Horoscope
Gemini
Your big brain is a real asset on a day like today—and the great energy pouring out of it makes life even sweeter! See if you can set aside some time for deep thought, as you can solve almost any problem you face.
Daily Chinese Horoscope
Dog
Today you might be better at starting projects than finishing them. If that's the case, maybe you need a team to help you get your tasks done. Call on friends, family, or your spouse to lend a hand. As long as you keep everyone well-fed or treat them to happy hour tonight, you'll find yourself with the assistance you need.
Daily Tarot Card
High Priestess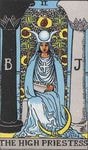 It is time to let go of action, and to embrace inaction. Quiet observation and wise distribution of energy is the key at this time. Patience is the only virtue that will see you through your current conundrum, patience and calm. Let those who would create chaos or move in useless furtive action do so, set yourself apart from it, doling out your calm observations and knowledge to those who would listen.