His zodiac sign is

Scorpio
Check Zodiac Compatibility
Best matches by zodiac
Users:
Scorpio
,
Pisces
,
Cancer
Descriptions:
Scorpio
,
Pisces
,
Cancer
Daily Horoscope
Scorpio
You surprise yourself early today by rethinking something big and seemingly settled—all thanks to one tiny detail. You may have to take your time with this one, though. Ask for advice.
Daily Chinese Horoscope
Monkey
Don't shoot the messenger today. Someone is giving you a dose of tough love that you don't want to hear. Try to unwrap the package that's being delivered to see the true contents. It's coming from love. Be open to receiving it.
Daily Tarot Card
Nine of Cups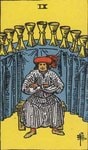 So you've made it? It's a new and wonderful feeling, and you've worked very hard to earn it. This tarot card showing up is an indicator that you need to celebrate and enjoy these without hesitation. You may have had trouble in the past with this sort of thing, but you're free to enjoy these now, do so.