Her zodiac sign is

Pisces
Check Zodiac Compatibility
Best matches by zodiac
Users:
Pisces
,
Cancer
,
Scorpio
Descriptions:
Pisces
,
Cancer
,
Scorpio
Daily Horoscope
Pisces
You're more welcoming than ever before, opening yourself to almost any new person or experience. That can leave you feeling pretty exhausted, but it's the right kind of tired, so embrace it!
Daily Chinese Horoscope
Rat
Although you might not be happy with the way things are right now, don't bite the hand that feeds you. Know that you'll get what you deserve in due time. For now, just be content with where you are.
Daily Tarot Card
Justice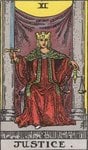 You are currently in a position where a decision must be made. You are being called on to make the fairest decision possible, and rest assured your current thoughts on the proper decision is the right one.