Her zodiac sign is

Pisces
Check Zodiac Compatibility
Best matches by zodiac
Users:
Pisces
,
Cancer
,
Scorpio
Descriptions:
Pisces
,
Cancer
,
Scorpio
Daily Horoscope
Pisces
You're too busy for your people today—see if you can skip a few appointments. If not, you may just have to make some apologies to those friends or coworkers who are left hanging.
Daily Chinese Horoscope
Rat
You might feel like doing some house cleaning today, but what you really should be focusing on is cleaning up your emotional frequencies. It may be full of negative thoughts and feelings that aren't working for you anymore. Take out the proverbial mop and start clearing some things away.
Daily Tarot Card
Justice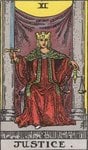 You are currently in a position where a decision must be made. You are being called on to make the fairest decision possible, and rest assured your current thoughts on the proper decision is the right one.