Her zodiac sign is

Virgo
Check Zodiac Compatibility
Best matches by zodiac
Users:
Virgo
,
Capricorn
,
Taurus
Descriptions:
Virgo
,
Capricorn
,
Taurus
Daily Horoscope
Virgo
You need to stick to the plan today, no matter how tempted you may be to take off on your own. It's one of those days when you can tell that uncertainty is your worst enemy.
Daily Chinese Horoscope
Snake
You know what you want and you want it yesterday. Yes, you've been working your tail off, but patience is a virtue. Develop it. Everything will happen in due time.
Daily Tarot Card
Queen of Cups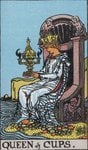 This tarot card from the Minor Arcana in the present position represents that your current circumstances require you to abandon logic and reason. Instead trust in intuition and emotional wisdom to guide your handling of it. This can indicate that this is an excellent time to work on spiritual pursuits, especially those calling on guidance.