His zodiac sign is
Leo
Check Zodiac Compatibility
Best matches by zodiac
Users:
Leo
,
Sagittarius
,
Aries
Descriptions:
Leo
,
Sagittarius
,
Aries
Daily Horoscope
Leo
Your amazing energy is making life incredibly sweet for those around you! Your people are sure to be grateful for the luck you bring.
Daily Chinese Horoscope
Pig
Collaborating with a creative friend or colleague can help you stay on task today, especially if you're ready to start something new and inspiring. Have a brainstorming session and toss some ideas around. Something will stick.
Daily Tarot Card
King of Pentacles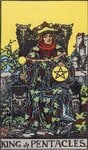 The King of Pentacles in the present position calls on you to pay attention to the meticulous details of day to day life. The stability you've been experiencing is going to require continued effort, and right now is definitely a time to maintain your discipline and security.