His zodiac sign is

Sagittarius
Check Zodiac Compatibility
Best matches by zodiac
Users:
Sagittarius
,
Aries
,
Leo
Descriptions:
Sagittarius
,
Aries
,
Leo
Daily Horoscope
Sagittarius
Your positive, creative energy is a dominant force on a day like today, but you don't actually bowl anyone over. In fact, your new ideas and fun plans should attract others to your cause!
Daily Chinese Horoscope
Horse
A smooth talker may try to con you into something today. Be critical and discerning in business matters, especially if you're dealing with people you just met. Strangers may seem harmless, but it's better to protect yourself and your livelihood by staying safe.
Daily Tarot Card
Five of Swords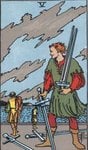 Take care in your current situation, you're very interested and dedicated in being right, but that may not be the most important thing. A victory for everyone will require you to step back and reconsider your position, and perhaps compromise on some of what were your personal goals, so that everyone can succeed.