His zodiac sign is

Taurus
Check Zodiac Compatibility
Best matches by zodiac
Users:
Taurus
,
Virgo
,
Capricorn
Descriptions:
Taurus
,
Virgo
,
Capricorn
Daily Horoscope
Taurus
You feel everything more intensely today, so hopefully you don't have to go to the dentist! It's also a good idea to keep yourself out of emotionally troubling situations, unless they're important roadblocks that have to be cleared.
Daily Chinese Horoscope
Snake
You want to blaze your own path today, but others may have a different idea. If it feels like you're butting your head against a wall, you are. Turn around, choose a different direction, and proceed from there.
Daily Tarot Card
Lovers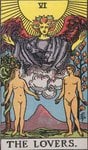 Have you met a new love? No? You will and soon! Again, this isn't necessarily romantic love, but whatever it is will be deeply exciting and fulfilling for you. This does not represent some transitory joy, but a deep sustaining love that will bring a welcome new element to your life. Keep your eyes open and at least peek beneath the clouds every so often, but enjoy the ride!