Daily Horoscope
Taurus
Nothing is quite what it seems today—so make sure that you're on top of it all. It's one of those days when you really need to take a second or third look before taking any serious or decisive action.
Daily Chinese Horoscope
Snake
Dying to experience something new in your life? You could get a big opportunity to do just that today. But don't get on board with just any old idea. There could be a catch. And today, you need to be careful of hidden traps.
Daily Tarot Card
Lovers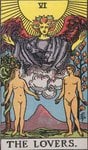 Have you met a new love? No? You will and soon! Again, this isn't necessarily romantic love, but whatever it is will be deeply exciting and fulfilling for you. This does not represent some transitory joy, but a deep sustaining love that will bring a welcome new element to your life. Keep your eyes open and at least peek beneath the clouds every so often, but enjoy the ride!