His zodiac sign is

Aquarius
Check Zodiac Compatibility
Best matches by zodiac
Users:
Aquarius
,
Gemini
,
Libra
Descriptions:
Aquarius
,
Gemini
,
Libra
Daily Horoscope
Aquarius
You're a fan of sudden changes—nothing gradual or piecemeal for you! Today brings a new aspect of life into focus, and you have to make a decision about how to adapt. Make it quick!
Daily Chinese Horoscope
Pig
Collaborating with a creative friend or colleague can help you stay on task today, especially if you're ready to start something new and inspiring. Have a brainstorming session and toss some ideas around. Something will stick.
Daily Tarot Card
Knight of Swords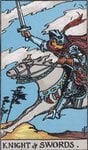 Mount your horse good Knight, the time has come to take all comers. Your current situation is calling for the energy of the Knight. The obstacles that stand in your way will not be won over with subtlety or simple talk, the word of the day is "Action!"