Her zodiac sign is

Aries
Check Zodiac Compatibility
Best matches by zodiac
Users:
Aries
,
Leo
,
Sagittarius
Descriptions:
Aries
,
Leo
,
Sagittarius
Daily Horoscope
Aries
A big opportunity could come knocking, probably fairly early in the day, so go for it! You need to be ready for anything, so make sure that you can move when the situation calls for action.
Daily Chinese Horoscope
Rabbit
A weird fascination with something or someone new might be getting out of hand. Try to keep your feet on the ground amid all those crazy feelings. Reality may be less fun, but you still have to live in it! Find balance between your obsessions and your daily obligations.
Daily Tarot Card
Eight of Wands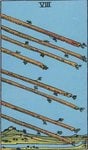 New projects flow across your desk and out the door like water. When something comes in, the best way to approach it and see it finished is immediately apparent and it's a simple matter of applying tried and true methods to see it through to completion. Growth is happening every day, enjoy it while it lasts!