Her zodiac sign is

Aries
Check Zodiac Compatibility
Best matches by zodiac
Users:
Aries
,
Leo
,
Sagittarius
Descriptions:
Aries
,
Leo
,
Sagittarius
Daily Horoscope
Aries
Now is the best time for you to work on legal projects or issues. These could be small, like a new lease, or huge, like a new marriage, but go for it with confidence! Your energy is right for this.
Daily Chinese Horoscope
Rabbit
Loose lips sink ships! Remember that whatever you say today could end up having a serious effect on someone else. Don't speak up unless you're sure you know all the facts. And while you're at it, encourage others to do the same.
Daily Tarot Card
Eight of Wands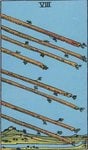 New projects flow across your desk and out the door like water. When something comes in, the best way to approach it and see it finished is immediately apparent and it's a simple matter of applying tried and true methods to see it through to completion. Growth is happening every day, enjoy it while it lasts!