Her zodiac sign is

Sagittarius
Check Zodiac Compatibility
Best matches by zodiac
Users:
Sagittarius
,
Aries
,
Leo
Descriptions:
Sagittarius
,
Aries
,
Leo
Daily Horoscope
Sagittarius
Your creative side is fully unleashed right now, so make the most of it! If you can focus entirely on creative endeavors like art, planning your next vacation, or even finding loopholes in your lease, go for it.
Daily Chinese Horoscope
Ox
It's a busy day for you. In fact, it's so busy that keeping everything organized could feel like a monumental task. Make sure you're keeping meticulous notes and writing everything down, whether it's phone numbers, lists, or inspired ideas. You need to be able to reference them later.
Daily Tarot Card
Eight of Wands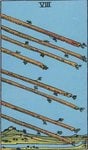 New projects flow across your desk and out the door like water. When something comes in, the best way to approach it and see it finished is immediately apparent and it's a simple matter of applying tried and true methods to see it through to completion. Growth is happening every day, enjoy it while it lasts!