His zodiac sign is

Aries
Check Zodiac Compatibility
Best matches by zodiac
Users:
Aries
,
Leo
,
Sagittarius
Descriptions:
Aries
,
Leo
,
Sagittarius
Daily Horoscope
Aries
You need to take better care of your reputation, even though it's in the care of others. Be sure to be seen doing what's right today, even if you have to go way out of your way to make it public!
Daily Chinese Horoscope
Rat
Try to avoid conflict today. Make an effort to avoid any confrontations within the workplace and steer clear of new relationships. Today is a good time to relax and have a nice conversation with one of your more mellow friends.
Daily Tarot Card
Nine of Cups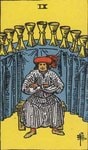 So you've made it? It's a new and wonderful feeling, and you've worked very hard to earn it. This tarot card showing up is an indicator that you need to celebrate and enjoy these without hesitation. You may have had trouble in the past with this sort of thing, but you're free to enjoy these now, do so.