His zodiac sign is

Aries
Check Zodiac Compatibility
Best matches by zodiac
Users:
Aries
,
Leo
,
Sagittarius
Descriptions:
Aries
,
Leo
,
Sagittarius
Daily Horoscope
Aries
You are filled with new and great ideas today—and you might find that you have a hard time communicating them all to your people. The good news is that you can save some of the best ones for later dry spells.
Daily Chinese Horoscope
Rat
Even though things aren't going so great right now, you might be feeling pretty confident about yourself. Good for you! It's that kind of self-assurance that will get you through the toughest of times. Keep your head up and give yourself permission to be happy.
Daily Tarot Card
Nine of Cups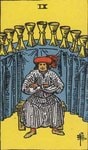 So you've made it? It's a new and wonderful feeling, and you've worked very hard to earn it. This tarot card showing up is an indicator that you need to celebrate and enjoy these without hesitation. You may have had trouble in the past with this sort of thing, but you're free to enjoy these now, do so.