His zodiac sign is

Aries
Check Zodiac Compatibility
Best matches by zodiac
Users:
Aries
,
Leo
,
Sagittarius
Descriptions:
Aries
,
Leo
,
Sagittarius
Daily Horoscope
Aries
Reach out and connect directly with someone far away. That could mean a phone call or a cam session, but one way or another, you need to move beyond mere words into something a bit more primal.
Daily Chinese Horoscope
Pig
Are you longing to cancel your social plans so you can stay in today? Don't feel like you have to party if the mood isn't happening. Fake an illness or simply say you need some solo time. It's probably better to recharge your batteries than drain your juices anyway.
Daily Tarot Card
Seven of Swords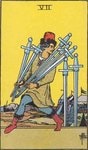 Whatever it is you are currently considering doing, stop. You may think there is a way to get away with it, you may even think you're clever enough to pull it off. All you can do at this point is be thankful this card arrived to warn you against your current course of action. Stay on the straight and narrow, there's a speed trap ahead.