His zodiac sign is

Aries
Check Zodiac Compatibility
Best matches by zodiac
Users:
Aries
,
Leo
,
Sagittarius
Descriptions:
Aries
,
Leo
,
Sagittarius
Daily Horoscope
Aries
You might need to deal with something real today, so make sure that you're ready and willing. Things could get pretty weird if you don't tackle it directly, so just ignore everything else.
Daily Chinese Horoscope
Pig
If things didn't go your way, know that the universe has something better in store for you. Continue to take action, and don't let failures slow your progress. Something is germinating far beneath the surface. When the time is right, a bud will sprout.
Daily Tarot Card
Seven of Swords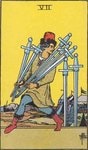 Whatever it is you are currently considering doing, stop. You may think there is a way to get away with it, you may even think you're clever enough to pull it off. All you can do at this point is be thankful this card arrived to warn you against your current course of action. Stay on the straight and narrow, there's a speed trap ahead.