His zodiac sign is

Pisces
Check Zodiac Compatibility
Best matches by zodiac
Users:
Pisces
,
Cancer
,
Scorpio
Descriptions:
Pisces
,
Cancer
,
Scorpio
Daily Horoscope
Pisces
You can't make heads or tails of today's news, so let it go. Sometimes puzzles don't actually mean anything, and today's is definitely one of those. Don't waste the brainpower!
Daily Chinese Horoscope
Ox
The romantic feelings you're having lately might not make a lot of sense, but that doesn't mean you shouldn't act on them. Go with your gut. Is something telling you to make a move? Then do it! Hesitation won't get you anywhere right now.
Daily Tarot Card
Knight of Wands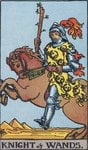 Do you hear the horn calling the battle charge? Ambition and motivation are the letter of the day, and nothing is going to stop your forward progress. But rein in those horses my friend, have you checked to make sure your impulsiveness isn't leading you to trouble? It may be that your first reaction isn't your best one. Keep the energy up, but take time to consider your forward motion lest you wind up in a trench.