Her zodiac sign is

Capricorn
Check Zodiac Compatibility
Best matches by zodiac
Users:
Capricorn
,
Taurus
,
Virgo
Descriptions:
Capricorn
,
Taurus
,
Virgo
Daily Horoscope
Capricorn
All seems lost at first today—but if you keep at it despite it all, you should find that things start to look a lot better by the end of the day. By this time tomorrow, you should be golden!
Daily Chinese Horoscope
Pig
Take your time. That fear you're feeling might be a sign that you shouldn't rush into things. Give yourself plenty of open space, fresh air, and time. When something is right, you'll know. Don't settle for anything less.
Daily Tarot Card
Four of Swords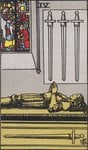 Take your ease soldier, the battle is seeing a lull. This quiet time is not a trick, not a lie, but nor is it the end of the war. Take time to meditate on what you've learned and what you've seen, and take what lessons from it you can before it's time to draw your sword and charge in again.