Daily Horoscope
Leo
Don't take anyone's word for things today. Investigate everything yourself. It's not like they're all lying to you, though. It's just that you can't be satisfied with anything less than absolute certainty.
Daily Chinese Horoscope
Ox
It's a busy day for you. In fact, it's so busy that keeping everything organized could feel like a monumental task. Make sure you're keeping meticulous notes and writing everything down, whether it's phone numbers, lists, or inspired ideas. You need to be able to reference them later.
Daily Tarot Card
King of Cups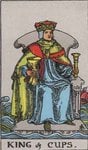 This tarot card represents that now is a time for a balancing of emotion in your life. The turmoil you've been dealing with isn't going to help you get through. It's time for the King of Cups to rule over your life. Let his wisdom and temperance heal you and guide you through.