His zodiac sign is

Capricorn
Check Zodiac Compatibility
Best matches by zodiac
Users:
Capricorn
,
Taurus
,
Virgo
Descriptions:
Capricorn
,
Taurus
,
Virgo
Daily Horoscope
Capricorn
You're moving at much greater speed today, so much so that you may leave your allies in the dust! It's not the best time to expect support, but you can still get plenty done on your own.
Daily Chinese Horoscope
Rooster
You have the power to make big changes in your life, but the problem is that you don't realize you have this power. The opportunity is there. It's time to reach out and snatch it up.
Daily Tarot Card
Seven of Swords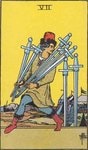 Whatever it is you are currently considering doing, stop. You may think there is a way to get away with it, you may even think you're clever enough to pull it off. All you can do at this point is be thankful this card arrived to warn you against your current course of action. Stay on the straight and narrow, there's a speed trap ahead.