His zodiac sign is

Aquarius
Check Zodiac Compatibility
Best matches by zodiac
Users:
Aquarius
,
Gemini
,
Libra
Descriptions:
Aquarius
,
Gemini
,
Libra
Daily Horoscope
Aquarius
The small stuff really starts to add up, though you wish it would just drift away. By now, you've got quite a few little errands and details to take care of before you can move on to the fun stuff.
Daily Chinese Horoscope
Monkey
You could find yourself playing peacemaker to friends or family today. While it's good you're so willing to help, don't feel pressured to fulfill this role all the time. It's not your job.
Daily Tarot Card
Fool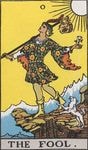 Your current path forward is open to you and you are carrying the bright optimistic view of the universally untried. You find every position to be open to you, every option, and the future is almost blindingly bright. In this position the card is neither beneficial or detrimental, it is merely a statement of where you are.