Daily Horoscope
Virgo
Your curiosity may get the better of you today, but that's a good thing. Let your mind wander and follow any stray leads. You should find that things get even better as the day progresses.
Daily Chinese Horoscope
Ox
Is it time for a change? You're ready to do something, but you're not quite sure what that something is yet. No matter. As long as you're planning your next move, you're headed in the right direction.
Daily Tarot Card
Strength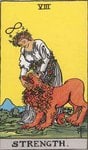 To put it simply, "You've got this." Your current situation, by sheer force of will, is under control. Even your frustrations serve to fuel your fire to get the task complete, and succeed against all odds. Don't let it go to your head, and you'll make it through this.