Her zodiac sign is

Virgo
Check Zodiac Compatibility
Best matches by zodiac
Users:
Virgo
,
Capricorn
,
Taurus
Descriptions:
Virgo
,
Capricorn
,
Taurus
Daily Horoscope
Virgo
You won't take no for an answer today, but there are others out there who are sure to disagree with your needs. That means conflict, and while you may not relish it, you're sure to do what you must.
Daily Chinese Horoscope
Ox
The romantic feelings you're having lately might not make a lot of sense, but that doesn't mean you shouldn't act on them. Go with your gut. Is something telling you to make a move? Then do it! Hesitation won't get you anywhere right now.
Daily Tarot Card
Strength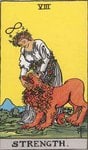 To put it simply, "You've got this." Your current situation, by sheer force of will, is under control. Even your frustrations serve to fuel your fire to get the task complete, and succeed against all odds. Don't let it go to your head, and you'll make it through this.