Her zodiac sign is

Gemini
Check Zodiac Compatibility
Best matches by zodiac
Users:
Gemini
,
Libra
,
Aquarius
Descriptions:
Gemini
,
Libra
,
Aquarius
Daily Horoscope
Gemini
Your ability to focus is stronger now, which is handy because you have at least one big, complicated project that needs attention. Give it your all!
Daily Chinese Horoscope
Rabbit
Your psychic state could be darkened by unfounded fears or melancholy. You have a higher risk of inflammation of the joints. Such medications as aspirin could be ineffective, but take anti-inflammatory drugs only with your doctor's approval. Delays could upset your professional plans. Try to keep your cool. You'll win nothing by getting worked up and subjecting your loved ones to the effects of your bad mood.
Daily Tarot Card
King of Swords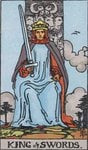 The time has come for you to take the throne, your majesty. There is no one so well suited as the King of Swords tarot card to best handle the situation that has come up. In this situation you are the one best suited to make a fair and just decision, and to guide others to see the best solution for everyone. The truth is clouded to the others, but evident to you, and you have the good grace to help others see it.