Daily Horoscope
Gemini
A simple task could turn out to be maddeningly difficult, but you can't just walk away. See if you can get assistance or at least a fresh perspective on the problem before you blow up.
Daily Chinese Horoscope
Rabbit
Give a loved one your undivided attention today. There may be something standing in the way of you two getting close, so address the issue and move on. Life's too short.
Daily Tarot Card
King of Swords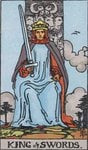 The time has come for you to take the throne, your majesty. There is no one so well suited as the King of Swords tarot card to best handle the situation that has come up. In this situation you are the one best suited to make a fair and just decision, and to guide others to see the best solution for everyone. The truth is clouded to the others, but evident to you, and you have the good grace to help others see it.