Her zodiac sign is

Gemini
Check Zodiac Compatibility
Best matches by zodiac
Users:
Gemini
,
Libra
,
Aquarius
Descriptions:
Gemini
,
Libra
,
Aquarius
Daily Horoscope
Gemini
This is not a good day to act impulsively. Make sure you've got every angle figured out before making your move. That could mean you have to defer serious action for another day, but so be it!
Daily Chinese Horoscope
Rabbit
The energy of the day requires that you be a team player. It's time to find the common goal here, even if it takes all day. What ground do you share with others? How can you translate that into an effective approach? This kind of thinking will help you resolve any issues and make some serious progress.
Daily Tarot Card
King of Swords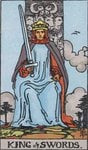 The time has come for you to take the throne, your majesty. There is no one so well suited as the King of Swords tarot card to best handle the situation that has come up. In this situation you are the one best suited to make a fair and just decision, and to guide others to see the best solution for everyone. The truth is clouded to the others, but evident to you, and you have the good grace to help others see it.