Her zodiac sign is
Leo
Check Zodiac Compatibility
Best matches by zodiac
Users:
Leo
,
Sagittarius
,
Aries
Descriptions:
Leo
,
Sagittarius
,
Aries
Daily Horoscope
Leo
The problem with pride—even the good kind that you are experiencing right now—is that it's hard to tell where it stops and arrogance begins. You can find a way to pull it off, though!
Daily Chinese Horoscope
Monkey
Some good news will probably come today. But you might be so absorbed in your own problems that you don't actually digest it. Take time to acknowledge what's going right in your life instead of focusing on the challenges. There is a lot to be grateful for.
Daily Tarot Card
Three of Wands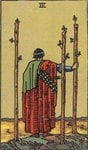 Everything is growing at an amazing rate! You find yourself finding the benefits of your careful planning showing up on a daily basis. Offers to expand your business, desires to invest in your plans, and excitement about what you're doing is rampant. Keep an eye out for opportunities to grow your dream!