Her zodiac sign is
Leo
Check Zodiac Compatibility
Best matches by zodiac
Users:
Leo
,
Sagittarius
,
Aries
Descriptions:
Leo
,
Sagittarius
,
Aries
Daily Horoscope
Leo
You need to deal with a good friend who is in need today—but that's how it should be! Remember why you're together, and give what you can freely. Things should get better for both of you soon.
Daily Chinese Horoscope
Monkey
Something you recently accomplished could bring in an extra source of cash today. Did you finally turn a profit on that business you started? Get that bonus check you were promised months ago? Whatever it is, it's best to put all of the extra dough in savings. You might need it next week.
Daily Tarot Card
Three of Wands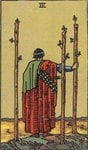 Everything is growing at an amazing rate! You find yourself finding the benefits of your careful planning showing up on a daily basis. Offers to expand your business, desires to invest in your plans, and excitement about what you're doing is rampant. Keep an eye out for opportunities to grow your dream!