Her zodiac sign is
Leo
Check Zodiac Compatibility
Best matches by zodiac
Users:
Leo
,
Sagittarius
,
Aries
Descriptions:
Leo
,
Sagittarius
,
Aries
Daily Horoscope
Leo
You are feeling a strong urge to do something new: but you can't figure out why. It's a good time to let your subconscious mind take over and guide you the rest of the way to your goal.
Daily Chinese Horoscope
Monkey
Sincere attempts to monitor the market and maximize profits are unlikely to overcome the fate of breaking even in business today. The more aggressive quirks of your family might grate on your already raw nerves by the time you come home. Try to be tolerant, as your loved ones can be your main refuge.
Daily Tarot Card
Three of Wands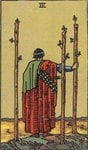 Everything is growing at an amazing rate! You find yourself finding the benefits of your careful planning showing up on a daily basis. Offers to expand your business, desires to invest in your plans, and excitement about what you're doing is rampant. Keep an eye out for opportunities to grow your dream!