Her zodiac sign is
Leo
Check Zodiac Compatibility
Best matches by zodiac
Users:
Leo
,
Sagittarius
,
Aries
Descriptions:
Leo
,
Sagittarius
,
Aries
Daily Horoscope
Leo
Your love life could use a little boost, so turn a normal interaction into an impromptu date! It could be in person with your long-term partner or online with that new crush at work, but see how far you can take it now.
Daily Chinese Horoscope
Dragon
Relationships with your friends can be enhanced today. Suddenly, you feel like you're all on the same page. You can identify with their struggles in a way you couldn't before. This is a good time to laugh, empathize, and commiserate with the ones who know you best.
Daily Tarot Card
Four of Swords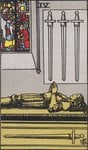 Take your ease soldier, the battle is seeing a lull. This quiet time is not a trick, not a lie, but nor is it the end of the war. Take time to meditate on what you've learned and what you've seen, and take what lessons from it you can before it's time to draw your sword and charge in again.